A project is underway at The Royal College of Surgeons of Edinburgh (RCSEd) to preserve and catalogue the College's institutional records and those of associated bodies. For five centuries, the RCSEd has enjoyed an international reputation as a provider of the highest standards in surgical education, training and clinical practice.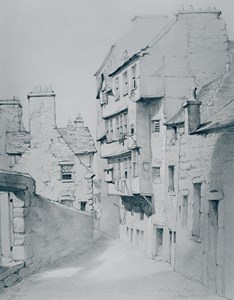 Surgeons' Rented Rooms in Dickson's Close, Edinburgh, where early meetings were held by The Incorporation of Surgeons and Barbers, 1647
Generously supported by the Wellcome Trust's Research Resources in Medical History, the project will facilitate wider access to historians of Scottish medicine, surgery and medical education. This is an exciting time for the Heritage Department at RCSEd (Library and Archive and Surgeons' Hall Museum) as the Wellcome project coincides with the Lister Project supported by the Heritage Lottery Fund, which has recently commenced at the College.
The RCSEd historical records comprise a unique historical resource detailing the activities, culture and development of an ancient craft guild across 500 years. The institutional archive, dating from the early 16th century is rich in all aspects of the College's illustrious history, including this early letter of exemption granted by Mary Queen of Scots in 1567, which served to relieve surgeons and barbers from bearing arms.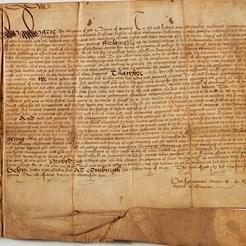 Cataloguing will cover five key collections:
RCSEd Institutional Archive (1504- ):  the main collection, including minutes which form a complete run from 1581
Society of Barbers (1722-1850): The Society of Barbers was established after the separation of surgeons and barbers in 1722 
The Royal Odonto-Chirurgical Society (1867– ): founded in 1867, this is held to be the oldest dental society in the world
The School of Medicine of the Royal Colleges of Edinburgh (1855-1964): this teaching establishment was set up jointly by RCSEd, the Royal College of Physicians Edinburgh and the Royal Faculty of Physicians and Surgeons of Glasgow in order to formalise the extra-mural and apprenticeship teaching which had developed during the 19th century 
The Lothian Surgical Audit (1946-1996):  this was established by Professor Sir James Learmonth at the end of World War II for Edinburgh surgeons to meet and discuss the reasons for patient deaths and improve surgical practice through regional audit
As cataloguing progresses, descriptions will be made immediately available through our website and the Archives Hub.
Check back regularly to the blog for project updates and highlights from the Library and Archive.