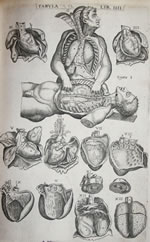 The College, now in its sixth century of existence, has printed and manuscript treasures in surgical and other topics, from the 1400s to the 1900s.
Some of them are very rare. Some are spectacularly illustrated. Some are written by Scots. Some are French classics.
Many are in need of restoration and conservation work.
If you would like to support this project please email library@rcsed.ac.uk or call +44(0)131 527 1630. Visits can be arranged. Alternatively, there is an online form below which is available for you to register your interest in supporting important heritage material.
Adopt a Book Request
If you would like to support us in our efforts to try to ensure the future of these important items for generations to come, please complete this form and submit it.
We shall contact you by email, telephone or letter, to explore some possibilities.
Completing this form does not commit you to an adoption.
Donors to the Project
We thank the donors most sincerely. Their generosity is funding the conservation of important printed and manuscript heritage, for future generations.
Below is a list of current donors. To search the list use the search box provided.
---
---
Name:

Book or Manuscript:
Charles Bell (1774-1842)
John Bell (1763-1820)
Engravings of the arteries, illustrating the second volume of the Anatomy of the human body, by J. Bell, Surgeon, and serving as an introduction to the surgery of the arteries. (1801)
Acknowledgements:
This book has been conserved in tribute to the work of Marianne Smith, former Librarian of The Royal College of Surgeons of Edinburgh.
---
Name:

Book or Manuscript:
Thomson, John (1765-1846)
Account of the varioloid epidemic, which has lately prevailed in Edinburgh and other parts of Scotland; with observations on the identity of chicken-pox with modified small-pox: in a letter to Sir James McGrigor. (1820)
Acknowledgements:
In memory of Erlend Alastair Kenneth Galloway. A fantastic son and brother. A kind, thoughtful and genuine man. Deeply missed. Great memories of being shown around the Surgeons Hall Museums.
---
Name:
Mrs Fiona MacLaren
Book or Manuscript:
Notes of Anatomy taken from lectures by Professor William Turner, Sessions 1881-1882
Acknowledgements:
Dedicated to the memory of Mr Iain F MacLaren FRCSEd (1927-2019), distinguished surgeon and great supporter of the Library of The Royal College of Surgeons of Edinburgh.
---
Name:
Mrs Vera Yusuf
Book or Manuscript:
Monro, Alexander (1697-1767)
Anatomy of the humane bones (1726)
Acknowledgements:
This book was adopted to commemorate the life of Mr Mohammed Yusuf FRCSEd (14 July 1934 – 20 September 2016) by his wife and family. "It's not the years in your life, but the life in your years that count."
---
Name:
Dr Claire Frauenfelder
Book or Manuscript:
Stokes, William (1804-1878)
A treatise on the diagnosis and treatment of diseases of the chest. Dublin: Hodges and Smith, 1837.
Acknowledgements:
The sponsoring of the conservation of this book commemorates the graduation of Dr Eamon Raith on his path to becoming a cardiothoracic surgeon 14th December 2011.
---
Name:
Professor Alan Rodger FRCSEd, FRCR, FRANZCR, FAChPM
Book or Manuscript:
1. Scultetus, Johannes. Cheiroplotheke, seu armamentarium chirurgicum. 1655.
2. Anon. The garden. Signed by Lister's mother. 1834
3. Bell, Charles. The anatomy and philosophy of expression as connected with the fine arts ... 1865
Acknowledgements:
Not yet available
---
Name:
Noirin Shirley, Eoin and Rosie
Book or Manuscript:
Lind, James (1716-1794) A treatise on the scurvy … 1757,
Lind, James (1716-1794) An essay on the most effectual means of preserving the health of seamen … 1774,
Lind, James (1716-1794) An essay on diseases incidental to Europeans in hot climates … 1771
Acknowledgements:
In recognition of the many achievements of their father, Mr Patrick K. Plunkett MB BCh BAO, FRCSEd, FRCSGlas, FCEM, SBStJ Commissioner of the St John Ambulance Brigade of Ireland, and in celebration of his birthday, September 2009.
---
---