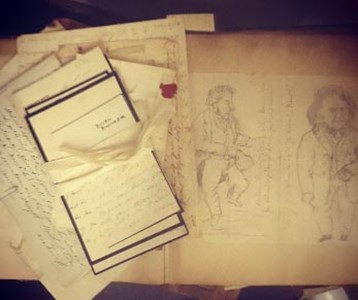 James Young Simpson Album and Letters
We have recently begun work on a project to catalogue and preserve the substantial James Young Simpson archive comprising over 2000 items.  The majority of these papers were presented to the College in 1958 by Miss Willert, the great-grand-daughter of Sir James Young Simpson. While a legacy finding aid for the archive exists as a list in PDF form, this is not user-friendly given the extent of the collection. We are therefore undertaking a retro-conversion project to produce a multi-level catalogue to item level, which will be available on our website through our online catalogue and also on the Archives Hub. The archive will also be re-packaged to ensure its long-term survival for generations to come.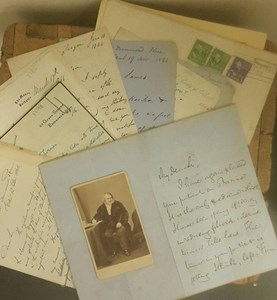 James Young Simpson Letters
In addition, there will be selective digitisation, with the images being made available online. As such, this wonderful collection will now be more accessible to researchers! Sir James Young Simpson is perhaps best known for his discovery of the anaesthetic effects of chloroform in November 1847, a story fully represented in the archive, which includes a great deal of correspondence from both supporters and those who were against its use. The letter illustrated below  was sent to Simpson in 1853 and relates to rumours that the Edinburgh Maternity Hospital had abandoned the use of chloroform.
After ether was discovered in 1846, Simpson was quick to use it to relieve the pains of labour, earning the gratitude of countless women and the condemnation of some members of the church and the medical profession. Simpson was a doughty advocate of the cause of general anaesthesia and the final vindication for chloroform came when Queen Victoria had it at the birth of Prince Leopold in 1853. The letter below is from the Duke of Argyll on behalf of the Duchess of Argyll congratulating him on his nomination to the Queen's household.
Simpson made many valuable contributions to the advancement of midwifery, both with the invention of new instruments and the introduction of new methods. The bound volume below contains testimonials from many individuals, local and international, in support of James Young Simpson's candidature, at the age of 28, for the Chair of Midwifery at the University of Edinburgh, including from Sir Charles Bell, noted Scottish anatomist, surgeon and artist.
In 1844 Simpson opened a Dispensary for Women and Children in St John Street, Edinburgh. He achieved world-wide fame, and visitors from all over the world came to see him in his home at 52 Queen Street. The  James Young Simpson archive also compliments the Simpson collection held at Surgeons' Hall Museums here at RCSEd, including, amongst others this pocket case of pills and powders that Simpson carried with him on his rounds, which bears the inscription, 'Please return to 52 Queen Street.' 
The archive collection includes:
Correspondence of  J.Y. Simpson concerning the administration of ether (1847) and the discovery and early use of chloroform;
Correspondence and papers of J.Y. Simpson concerning the use of anaesthesia in midwifery. 1847-49;
Correspondence and papers of J.Y. Simpson concerning obstetrics and gynaecology. 1840-68;
J.Y. Simpson's correspondence and papers on homoeopathy 1851-58;
J.Y. Simpson's correspondence with Dr. David Greig, 1860-69, and other papers respecting acupressure in surgery;
Correspondence and papers of J.Y. Simpson concerning various medical subjects (inoculation, plagues, puerperal fever, leprosy, genetics and mesmerism.) 1845-61;
Correspondence concerning, and reprints of, various medical publications. 1837-94;
General medical correspondence of J.Y. Simpson. 1837-71;
Correspondence relating to J.Y. Simpson's private practice. 1843-1870;
Papers relating to the foster care of Mary White and Rochester Quinton. 1850-66;
Correspondence relating to professional disputes involving J.Y. Simpson. 1839-68;
Correspondence relating to the medical reform bill, mainly 1856-58.
University papers - 1836-68;
Correspondence relating to the principalship contest between J.Y. Simpson and Sir Alexander Grant. 1863;
Miscellaneous rough notes of J.Y. Simpson. 1829-67;
Religious correspondence and papers of J.Y. Simpson, 1852-65;
J.Y. Simpson's correspondence and notes and papers in his possession respecting archaeology and antiquities, 1823-70;
Correspondence concerning the Grindlay shipping business, 1843-59;
Correspondence and comments relating to various mineral and mining ventures, etc. 1857-88;
Correspondence and papers relating to J.Y. Simpson's sugar estates in Tobago. 1866-68;
Correspondence and papers respecting the trust disposition and settlement, shares and properties owned by J.Y. Simpson and his heirs. 1840-1901;
Domestic accounts of the Simpson family. 1847-1902;
Family correspondence and related documents. 1832-1948;
Correspondence to J.Y. Simpson congratulating him on his baronetcy, 1866;
Letters of condolence. 1862-70.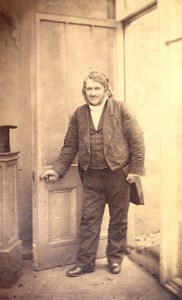 James Young Simpson in 1864
To follow the progress of the project you can search our online catalogue with the Archive reference 'JYS' here. We will also update you through social media.