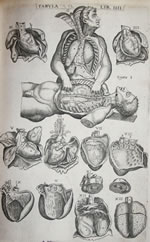 The College, now in its sixth century of existence, has printed and manuscript treasures in surgical and other topics, from the 1400s to the 1900s.
The Library and Archive of the College possesses an exceedingly varied collection, containing everything from legal documents in old Scots to religious texts in French and Latin.
Preserving such a collection requires great care and effort and many of these items are in need of restoration and conservation work.
We are committed to ensuring the survival of these treasured items so that they may inform and be appreciated by future generations, and we always appreciate assistance in doing so.
Adopting one of our items not only secures its future but links you to it in perpetuity. It is thus a fantastic way to leave a legacy at the same time as assisting our work.
Joining the Adopt a Book Program
If you would like to support this project please email library@rcsed.ac.uk or call +44(0)131 527 1632.  
Donors to the Project
We thank the donors most sincerely. Their generosity is funding the conservation of important printed and manuscript heritage, for future generations.
Below is a list of current donors. To search the list use the search box provided.
---
---
Name:
Dr K T Matthew Seah
Book or Manuscript:
Alexander Monro (Secundus).
Observations on the structure and functions of the nervous system. Illustrated with tables. 1783

Acknowledgements:
To support RCSEd heritage
---
Name:
Mr E. A. Kenneth Galloway
Book or Manuscript:
1. Robert Knox, MD FRCSEd. A manual of human anatomy: descriptive, practical and general. 1853
2. Robert Knox, MD FRCSEd. A system of human anatomy: on the basis of the "Traité d'anatomie descriptive" of M. H. Cloquet. 1831

Acknowledgements:
1. Adopted by E. A. Kenneth Galloway in acknowledgement of his parents, Graham and Morag.
"Without their support, guidance and undying love, I doubt I'd be standing here today"2. In remembrance of 'Big Granny and Grandpa' and 'Wee Granny and Grandpa' "The memories of all those great times we shared shall remain forever"

---
Name:
Edinburgh Decorative and Fine Arts Society
Book or Manuscript:
Ellis, George Viner
Ford, G. H.
Illustrations of dissections, in a series of coloured plates
the size of life, representing the dissection of the human
body, with descriptive letter-press in demy octavo.
London, 1867

Acknowledgements:

---
Name:
Edinburgh Decorative and Fine Arts Society
Book or Manuscript:
Schetky, Alexander (1785-1824)A large bound volume of original drawings by John Alexander Schetky FRCSEd(Schetky was born in Edinburgh, qualified in medicine then in 1804 was appointed assistant-surgeon in the 3rd Dragoon Guards. In 1812 he was promoted to the rank of surgeon on the Portuguese staff. When the Peninsular War ended, he returned to Edinburgh.
A keen amateur painter, he resumed the study of drawing at the Trustees' School. In July 1818 he was admitted as a Fellow of the Royal College of Surgeons of Edinburgh. At Fort Pitt in Chatham he made many drawings for the Museum of Morbid Anatomy. He died of a fever whilst on a voyage from Sierra Leone to Accra. His brother was marine-painter in ordinary to King George IV.)
Acknowledgements:

---
Name:
Mr Iain M. C. Macintyre FRCSEd, RCSEd Honorary Secretary 2000-2003; RCSEd Vice President 2003-2006
Book or Manuscript:
John Ranby. The method of treating gunshot wounds. 1744
John Huxham. Medical and chemical observations upon antimony. 1756
John Huxham. Essay on fevers and their various kinds …1750
Pharmacopoeia Collegii Regii Medicorum Edinburgensis. 1744
Pharmacopoeia domestica nova. 1750.
Acknowledgements:

---
Name:
Professor W Angus Wallace VP RCSEd (1997-2000)
Book or Manuscript:
Alexander Monro Secundus'
"A description of all the bursae mucosae of the human body; their structure explained and compared with that of the capsular ligaments of the joints …". 1788
Acknowledgements:

---
Name:
Professor Murray C Meikle FDS RCSEd, New Zealand
Book or Manuscript:
HUNTER, John. The Natural History of the Human Teeth: ... [And:] A Practical Treatise on the Diseases of the Teeth; ... London: Printed for J. Johnson, 1778. [Copy 1]
Acknowledgements:

---
---