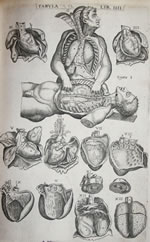 The College, now in its sixth century of existence, has printed and manuscript treasures in surgical and other topics, from the 1400s to the 1900s.
Some of them are very rare. Some are spectacularly illustrated. Some are written by Scots. Some are French classics.
Many are in need of restoration and conservation work.
If you would like to support this project please email library@rcsed.ac.uk or call +44(0)131 527 1630. Visits can be arranged. Alternatively, there is an online form below which is available for you to register your interest in supporting important heritage material.
Adopt a Book Request
If you would like to support us in our efforts to try to ensure the future of these important items for generations to come, please complete this form and submit it.
We shall contact you by email, telephone or letter, to explore some possibilities.
Completing this form does not commit you to an adoption.
Donors to the Project
We thank the donors most sincerely. Their generosity is funding the conservation of important printed and manuscript heritage, for future generations.
Below is a list of current donors. To search the list use the search box provided.
---
---
Name:
Mr John Chalmers FRCPE FRCSEd
Book or Manuscript:
1. Duncan, Andrew (Sen). Medical cases ... 1776-1777. 1778
2. Duncan, Andrew (Sen). Heads of lectures on the institutions of medicine. 1809
3. Duncan, Andrew (Sen). A letter to Dr James Gregory of Edinburgh...1811

Acknowledgements:
With thanks for RCSEd Library research assistance.
---
Name:
Malcolm MacCallum, of Scotland and Medicine
Book or Manuscript:
Fyfe, Andrew (1752-1824) FRCSEd
One hundred & fifty-eight plates to illustrate "The anatomy of the human body" ... 1830 (2 copies)
The anatomy of the human body: illustrated by one hundred and fifty eight plates ... 1830 (2 copies)
Acknowledgements:
To acknowledge support given by the College Library to Scotland and Medicine, in loaning rare and historical medical and surgical texts for display in their exhibitions.
---
Name:
Intercollegiate BSS India -Dr Krishnaswamy & Professor Anand
Book or Manuscript:
The number of rare and important books that have been restored using this substantial 2010/11 donation is too large to list here.

It includes Hunter's Gravid uterus, Diemerbroeck's Opera omnia, 1685, Cloquet's five volume large early 19th century Anatomie de l'homme and Eustachius' Tabulae anatomicae, published in 1722.
Acknowledgements:
Presented to the College Library, to fund conservation work on rare medical and surgical texts and archives.
---
Name:
Dr K T Matthew Seah
Book or Manuscript:
Alexander Monro (Secundus).
Observations on the structure and functions of the nervous system. Illustrated with tables. 1783

Acknowledgements:
To support RCSEd heritage
---
Name:
Mr E. A. Kenneth Galloway
Book or Manuscript:
1. Robert Knox, MD FRCSEd. A manual of human anatomy: descriptive, practical and general. 1853
2. Robert Knox, MD FRCSEd. A system of human anatomy: on the basis of the "Traité d'anatomie descriptive" of M. H. Cloquet. 1831

Acknowledgements:
1. Adopted by E. A. Kenneth Galloway in acknowledgement of his parents, Graham and Morag.
"Without their support, guidance and undying love, I doubt I'd be standing here today"2. In remembrance of 'Big Granny and Grandpa' and 'Wee Granny and Grandpa' "The memories of all those great times we shared shall remain forever"

---
Name:
Edinburgh Decorative and Fine Arts Society
Book or Manuscript:
Ellis, George Viner
Ford, G. H.
Illustrations of dissections, in a series of coloured plates
the size of life, representing the dissection of the human
body, with descriptive letter-press in demy octavo.
London, 1867

Acknowledgements:

---
Name:
Edinburgh Decorative and Fine Arts Society
Book or Manuscript:
Schetky, Alexander (1785-1824)A large bound volume of original drawings by John Alexander Schetky FRCSEd(Schetky was born in Edinburgh, qualified in medicine then in 1804 was appointed assistant-surgeon in the 3rd Dragoon Guards. In 1812 he was promoted to the rank of surgeon on the Portuguese staff. When the Peninsular War ended, he returned to Edinburgh.
A keen amateur painter, he resumed the study of drawing at the Trustees' School. In July 1818 he was admitted as a Fellow of the Royal College of Surgeons of Edinburgh. At Fort Pitt in Chatham he made many drawings for the Museum of Morbid Anatomy. He died of a fever whilst on a voyage from Sierra Leone to Accra. His brother was marine-painter in ordinary to King George IV.)
Acknowledgements:

---
---