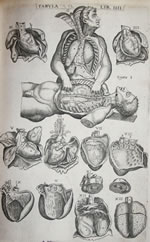 The College, now in its sixth century of existence, has printed and manuscript treasures in surgical and other topics, from the 1400s to the 1900s.
The Library and Archive of the College possesses an exceedingly varied collection, containing everything from legal documents in old Scots to religious texts in French and Latin.
Preserving such a collection requires great care and effort and many of these items are in need of restoration and conservation work.
We are committed to ensuring the survival of these treasured items so that they may inform and be appreciated by future generations, and we always appreciate assistance in doing so.
Adopting one of our items not only secures its future but links you to it in perpetuity. It is thus a fantastic way to leave a legacy at the same time as assisting our work.
Joining the Adopt a Book Program
If you would like to support this project please email library@rcsed.ac.uk or call +44(0)131 527 1632.  
Donors to the Project
We thank the donors most sincerely. Their generosity is funding the conservation of important printed and manuscript heritage, for future generations.
Below is a list of current donors. To search the list use the search box provided.
---
---
Name:
Dr Ivor Davie FRCA FRCP
Book or Manuscript:
Simpson, J. Y. Etherization. 1840s
Acknowledgements:

---
Name:
Mr Richard A Buxton FRCSEd
Book or Manuscript:
"Title selected to be at Librarian's discretion"
Acknowledgements:

---
Name:
The Library Association Retired Members' Guild
Book or Manuscript:
Boerhaave, Herman (1668-1738)Consultationes medicae: sive sylloge epistolarum cum responsis Hermanni Boerhaave. Volumen primum. 1744(Dutch physician and professor of medicine who was the first great clinical, or "bedside," teacher. Boerhaave graduated in philosophy from the University of Leiden in 1684 and in medicine from the academy at Harderwijk in 1693. He spent the whole of his professional life at the University of Leiden, serving as professor of botany and of medicine, rector of the university, professor of practical medicine, and professor of chemistry. Inspired teacher)
Acknowledgements:

---
Name:
Professor Alan Rodger FRCSEd
Book or Manuscript:
1. Pharmacopoeia Collegii Regalis Medicorum Londinensis [Royal College of Physicians of London] 1746
2. Pharmacopoeia Pauperum, in usum nosocomii Regii Edinburgensis. [Royal Infirmary of Edinburgh] 1758
Acknowledgements:

---
Name:
Mr Gordon F Reid FRCSEd
Book or Manuscript:
Sharpe, S A treatise on the operations of Surgery with a description and representation of the Inrstruments[sic] used in performing them ... London: Robinson, 1782
Acknowledgements:

---
Name:
Dr Helen M Dingwall, College Historian
Book or Manuscript:
Lowe, Peter. Discourse of the whole art of chirurgery…1654
Acknowledgements:

---
Name:
Professor Dugald L Gardner FRCSEd
Book or Manuscript:
Thomson-Walker, John.
Surgical diseases of the genito-urinary organs.
2nd ed.
London: Cassell and Co. 1936
Acknowledgements:

---
---