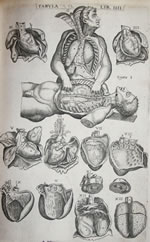 The College, now in its sixth century of existence, has printed and manuscript treasures in surgical and other topics, from the 1400s to the 1900s.
Some of them are very rare. Some are spectacularly illustrated. Some are written by Scots. Some are French classics.
Many are in need of restoration and conservation work.
If you would like to support this project please email library@rcsed.ac.uk or call +44(0)131 527 1630. Visits can be arranged. Alternatively, there is an online form below which is available for you to register your interest in supporting important heritage material.
Adopt a Book Request
If you would like to support us in our efforts to try to ensure the future of these important items for generations to come, please complete this form and submit it.
We shall contact you by email, telephone or letter, to explore some possibilities.
Completing this form does not commit you to an adoption.
Donors to the Project
We thank the donors most sincerely. Their generosity is funding the conservation of important printed and manuscript heritage, for future generations.
Below is a list of current donors. To search the list use the search box provided.
---
---
Name:
Professor Arnold G D Maran PPRCSEd, Scotland
Book or Manuscript:
"Title selected to be at Librarian's discretion"
Acknowledgements:

---
Name:
Mr Jim Foster ex Chief Executive RCSEd
Book or Manuscript:
A Book of Hours. Rouen, circa 1460
Acknowledgements:

---
Name:
Professor D A D Macleod FRCSEd
Book or Manuscript:
Engravings, explaining the Anatomy of the Bones, Muscles and Joints by John Bell, Surgeon. Edinburgh: 1794
Acknowledgements:

---
Name:
Mr Hugh M Bishop FRCSEd
Book or Manuscript:
"Title selected to be at Librarian's discretion"
Acknowledgements:

---
Name:
Mr J P Bennett FRCSEng
Book or Manuscript:
William Fergusson's System of Surgery and Practical Surgery
Acknowledgements:

---
Name:
Mr Anthony Bleetman FRCSEd
Book or Manuscript:
Gray's Anatomy 1st edition
Acknowledgements:

---
Name:
Mr Chris McInrue
Book or Manuscript:
John Hunter "A treatise on the blood." Edinburgh 1794
Acknowledgements:

---
---